People for decades trying to find out what secrets the star sky holds. Astrologers and fortune tellers are using signs of the zodiac in their predictions, or more modern term-horoscopes. EGT decided to create a slot game, based on this beautiful and mysterious theme,called Zodiac Wheel.
General Description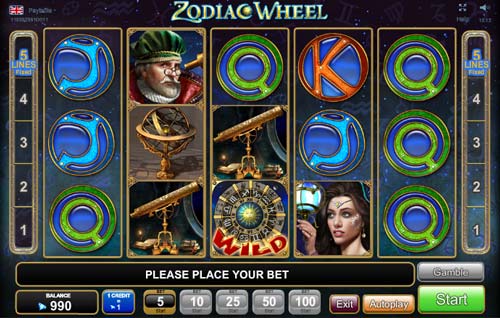 Zodiac Wheel slot game is a video slot with 5 paylines, which are placed along the 5 reels. Standard symbols, special symbols, gambling feature and progressive jackpot are available in this slot game. Unfortunately, what it doesn't have are free spins and bonus games. But don't worry! It still has many interesting features to offer. After each winning spin, you may try to expand your winnings in gambling feature. Experienced gamblers know the drill. Face-down card, a color of which you need to guess. If your answer is correct- your winnings will be doubled, if wrong- then your stake will be lost. It's possible to play this feature several times, but, of course, a number of tries are limited.
Progressive jackpot and special features
In this game, there are four progressive jackpots available. The amount of each of them is collected independently by deducting of a small percent of the staked bets. Progressive jackpot can be triggered randomly, during any of spins. Twelve face-down cards appear at the special screen at the beginning of the round. Your task is to choose them one by one randomly. As soon as you get three cards of the same suits, a corresponding jackpot will be yours!. The best thing about this round is that you can't lose. Yes, that's right. Participation in this round guarantees the corresponding winning amount.
With four progressive jackpots you have great chances to win big prizes!
Now let's talk about symbols of this game,which are ,by the way,fantastic. With amazing graphics and animations, images of a wise astrologer, beautiful fortuneteller, telescope, some equipment and traditional card symbols become alive during winning combinations. Special symbols are represented by Wild (Zodiac Wheel) and two kinds of Scatter( a book and a map of star sky). Wild substitutes other symbols, when necessary, except Scatter, to form winning combinations. As I already mentioned, there are two types of Scatter, each with the particular function. A book symbol is paid out independently of its location while an amount of the winning is calculated by the total bet while star map symbol appears only on third and fifth reels and with three of them, the player is charged with a payoff in an amount of twenty bets per round.
EGT's Zodiac Wheel is one of the best video slots, even without different bonus features. Special features can bring you great winnings and amazing graphics will make you feel as if you're at the astronomy tower, solving the mysteries of the Zodiac Wheel. So don't hesitate and play this amazing free slot right now!